If you pay state taxes in Georgia, you have the power to change the life of a student in need at Queen of Angels while reaping a generous tax benefit. Thanks to the Georgia Private School Tax Credit law, taxpayers can redirect a portion of their state taxes to Student Scholarship Organizations (SSOs). GRACE Scholars is one such SSO, and taxpayers can choose to directly support students at Queen of Angels Catholic School through participation in the GRACE Scholars program.
The GRACE Scholars program provides access to Catholic education for Georgia families who otherwise can not afford school tuition. Taxpayers receive a 100% state income tax credit for their gift while helping make a Catholic school education a reality for families. What is especially appealing to taxpayers is that they can specify which Catholic school they would like to receive their redirected taxes. If they itemize, donors can claim the contribution on their federal taxes.
Pre-registration for 2024 opens on July 1, 2023. For more information, please visit www.gracescholars.org. To designate Queen of Angels (Code #140) on your Contribution Forms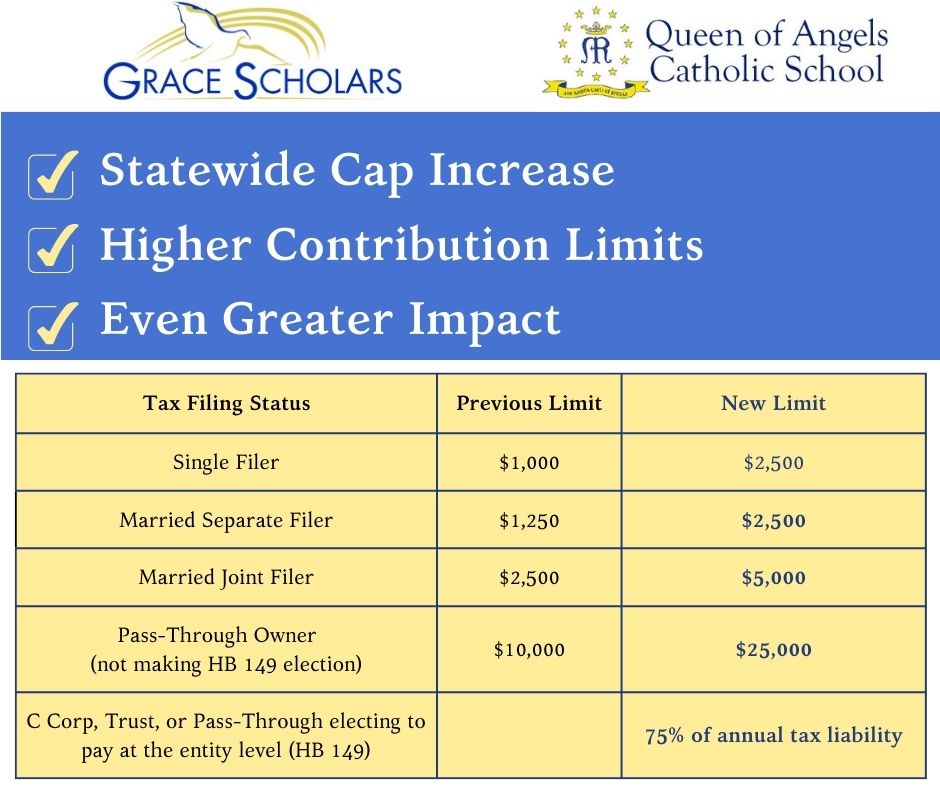 The GRACE Difference
A Queen of Angels Catholic School Family:
"We are incredibly grateful for the GRACE program. For large Catholic families like ours, the dream of traditional Catholic education for our children is attainable. "
A Queen of Angels Catholic School GRACE Donor:
"We happily give the fullest amount allowed by law to GRACE. It is nice to designate where some of our hard-earned tax dollars are spent. We appreciate that our tax money will benefit Catholic education in our area."