Brennan Passons Memorial Fund

Brennan Passons Memorial Fund
The Brennan Passons Memorial Fund was created by the Passons family to remember their daughter wh opassed away unexpectedly due to complications from asthma and anaphylaxis on October 10, 2011. Brennan Nicole Passons was a 6th grade student at Queen of Angels Catholic School who loved the Arts. Her favorite activities were Choir, Band, Art and Drama. This memorial fund will be directed to the Arts in her name at Queen of Angels Catholic School.

Brennan's legacy of kindness and compassion to all will continue to be remembered in an annual award to be presented to one student who exemplifies Brennan's effervescent personality and tireless efforts to embrace the uniqueness found in each one of us. The current Brennan Passons Award for Kindness & Compassion Winners are Ethan and Libby.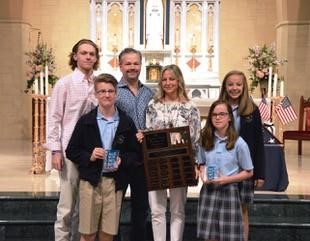 To Support the Brennan Passons Memorial Fund

Give Now
or
Send a check to:
Queen of Angels Catholic School
11340 Woodstock Road
Roswell, GA 30075
Note: Brennan Passons Memorial Fund in the memo.
Please direct your questions to Melissa Harrison, Director of Advancement by email mharrison@qaschool.org or call (770) 518-1804, extension 104.