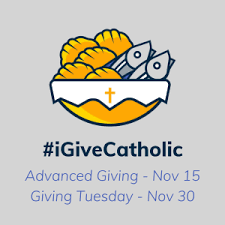 Each year, Queen of Angels participates in #iGiveCatholic, the national day of giving. On November 30, Queen of Angels will be celebrating with a host of fun-filled activities. The past 5 years of participation have provided fantastic support, earning QA recognition on the national leaderboards for the number of donors and monetary gifts! Proceeds will support a variety of programs in our school that align with the 2021-2022 Annual Fund goals.

The generosity of the Queen of Angels community is evident in the 2020-2021 Annual Report. For this, we are grateful!

As #iGiveCatholic is an arm of the 2021-2022 Annual Fund, our goal is to reach 100% parent participation and reach our annual goal of $250,000. All donations made to the #iGiveCatholic campaign during this period will count toward our community earning the grant monies! Advance Giving concludes on November 30.
On behalf of QA, we thank you in advance for your support!
#iGiveCatholic is a one-day online giving event on #GivingTuesday, November 30, when many focus on their holiday and end-of-year giving.
Advance giving runs from November 15 through November 29.
Following Black Friday and Cyber Monday, #iGiveCatholic, the Catholic Church's response to Giving Tuesday was launched 6 years ago as a way for Catholic families to "give back" to Catholic schools, churches, and organizations.
Last year, QA topped the national giving for Catholic elementary schools with proceeds in excess of $70,000.00!

Reasons to participate
•Supporting the Annual Fund & #iGiveCatholic shows your support for our school, program, and community.
•A donation shows that you are committed to Queen of Angels and the many ways in which the faculty & staff model, educate, and love their students.