QA Odyssey of the Mind Team Wins World Competition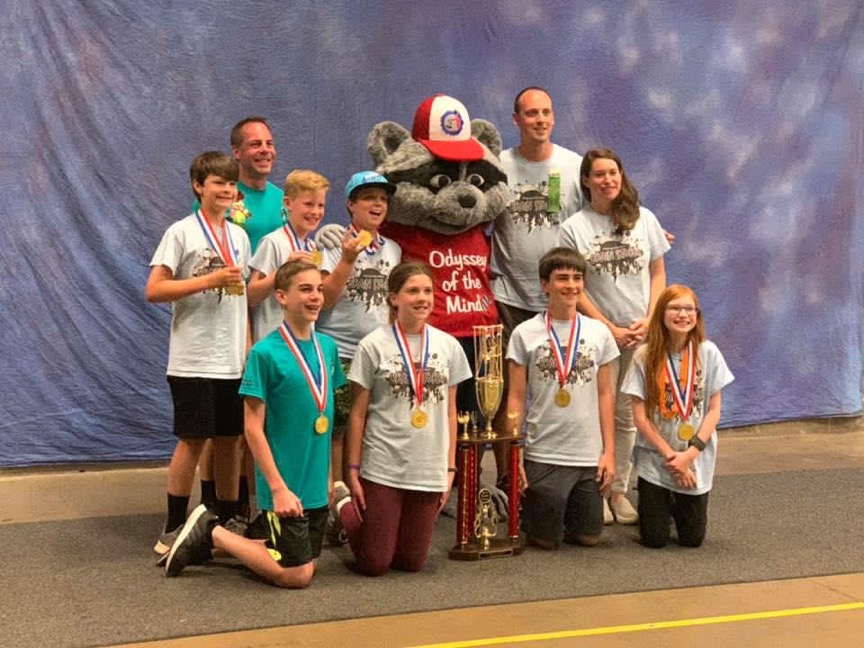 May 25, 2019
Queen of Angels Catholic School Odyssey of the Mind Team Wins World Championship
East Lansing, MI-On Saturday, May 25, 2019, Queen of Angels Catholic school was represented by three teams competing at the Odyssey of the Mind World Finals at Michigan State University. The Queen of Angels Middle School team, competing in the "structure toss" problem placed 1st in their category and was the first team in school history to achieve this goal. The team was Coached by Brenda Smith, Bob Czaplicki, with co-coach Chris Grey. Parent coaches assist the teams with the rules and guidelines, but it is required that the students solve the problem as a team independent of help from parents or adults. Odyssey of the Mind is a STEM based, problem solving, educational competition.
Odyssey of the Mind gives students an opportunity to develop a variety of skills including, teamwork and the arts while increasing their aptitude in the areas of Science, Technology, Engineering and Math (STEM). Students apply STEM concepts by creatively solving an engineering problem by assessing the composition and strength of materials, designing vehicles and devices, engineering structures, sets and backdrops and calculating scores, geometry and physics. The Structure Toss Problem required students the construct a
Dr. Jamie Arthur, Queen of Angels Principal stated, "This is an incredible achievement by our Middle School team. Odyssey of the Mind requires students to work as a team for several months to devise a strategy to solve their problem. It is a testament to the dedication of our teachers and parent community to support our efforts in advancing our STREAM curriculum," (Science, Technology, Religion, Engineering, Arts, and Math).
The winning teams are as follows:
First place in the "Structure Toss" Problem-Middle School competition includes team members; Sophia Brigham, Mary Czaplicki, Matthew Gray, Creighton Hudkins, Christopher Michals, Chase Mowrey and Samuel Smith
Queen of Angels has been competing in Odyssey of the Mind for several years. The after school program has continued to improve and has been recognized on many levels through the years they have been participating. One of the original coaches, Mark Hopkins, was previously inducted into the "Coaches Hall of Fame" for his efforts in building the program to the level of success it enjoys today. To See More Photos
###
Queen of Angels Catholic School is located in Roswell, GA. An Archdiocese of Atlanta School, the school is part of a one-hundred acre campus that includes Blessed Trinity Catholic High School, St. Peter Chanel Catholic Church and the Village of St. George Retirement Home. Queen of Angels Catholic School provides quality Education from Kindergarten through 8th grade for 500+ students. Families from 18 parishes in the Archdiocese of Atlanta are represented in the school community.